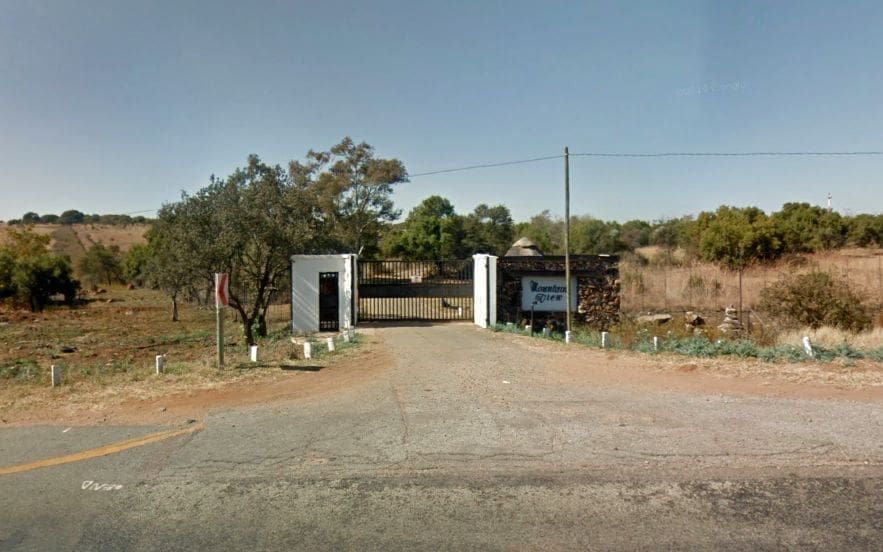 Trails

blue 4 km     circular around the main house via the outlook koppie




yellow 9 km       via panorama ridge (view over jo'burg), central plains, Lion Park fence, game enclosure and outlook koppie




red 11 km       along the southern, eastern & northern fencelines through Pelindaba rock fields, riverine forest and central plains




all trails are sign-posted

Rates
R 85.00 per person
Suitable
for individuals, families, friends, young and old
clubs and groups welcome
Caution
all animals have right of way
respect the wildlife – no off-roading
Parking

park in designated areas only
no driving on the property
Facilities

private garden at the main house is accessible to guests for picnic and relaxing
please use trash cans in the central and parking areas
Wildlife

Black Impala
Blue Wildebeest
Bontebok
Eland
Impala
Ostrich
Sable Antilope
Warthog
Waterbuck
Zebra
Untouched for a number of years, Mountain View is a private property north of Lanseria airport on the R512. It offers breathtaking views over Johannesburg in the far distance and the hills of the Crocodile River Reserve. Its northern fence line is shared with the Lion Park.
The entrance gate to Mountain View is 45 minutes from Sandton and only 10 minutes up the road from Lanseria International Airport. 8 km further up the road you will reach the Crocodile River and scenic Hartbeespoort Dam in 18 minutes.
The habitat offers a variety of bushveld, grassy savannah and a patch of riverine forest. The ground is mostly sandy with some rocks, and several stretches of Pelindaba rocks to navigate.
Discover Pumba Pools, Zebra Plains, Ostrich Run, Eland Cove, Lionsgate, Outlook Koppie, J-View, Pelindaba Fields on your ride.
MTB Trails use the wide, well marked fire breaks. Thanks to the absence of cars and other visitors, the game viewing is exceptional!