Mountainview Trails
– temp. closed during development phase
Untouched for a number of years, Mountain View is a private property north of Lanseria airport on the R512. It offers breathtaking views over Johannesburg in the far distance and the hills of the Crocodile River Reserve. Its northern fence line is shared with the Lion Park.
The entrance gate to Mountain View is 45 minutes from Sandton and only 10 minutes up the road from Lanseria International Airport. 8 km further up the road you will reach the Crocodile River and scenic Hartbeespoort Dam in 18 minutes.
The habitat offers a variety of bushveld, grassy savannah and a patch of riverine forest. The ground is mostly sandy with some rocks, and several stretches of Pelindaba rocks to navigate.

Discover Pumba Pools, Zebra Plains, Ostrich Run, Eland Cove, Lionsgate, Outlook Koppie, J-View and Pelindaba Fields on your visit.
Bike - Run - Hike or Scoot     
All trails are sign-posted and can be enjoyed for mountain biking, hiking or trail running:
Blue: 4 km circular around the main house via the outlook koppie


Yellow: 9 km via panorama ridge (view over Jo'burg), central plains, Lion Park fence, game enclosure and outlook koppie


Red: 11 km along the southern, eastern & northern fence lines through Pelindaba rock fields, riverine forest and central plains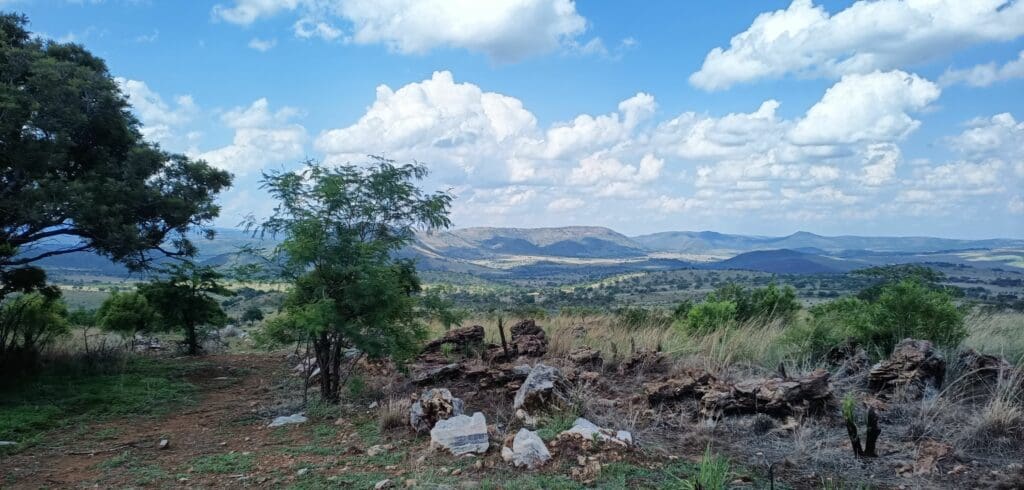 Another option are the Eezi Scooter Guided Bush Trails
A breath-taking experience is an adventurous trail through Mountain View Game Farm, with savanna plains and the most exquisite views. This mixed woodland-grassland ecosystem is home to plenty game species – see above.
Our fully guided electric scooter trail at Mountain View Trails is adventurous yet relaxing! The activity is eco-friendly, zero noise nuisance – with a low environmental impact.
Age limits apply to children under 12, but they can still enjoy this activity from the passenger seat while Mom or Dad is driving.
We will keep posting updates on new activities as they come on line...